If you are considering building a games room then utilising the space is one of the key elements to ensure it is a success. If you would like a Pool Table and a Table Tennis Table, then it makes perfect sense to combine the two. This would then potentially allow space for other games, such as Table Football, Darts and Air Hockey.
At Luxury Pool Tables, we can provide custom made or bespoke pool tables which are easily transformed into Table Tennis with a simple addition of one of our Table Tennis Tops which are designed especially to sit on our Pool Tables.
We have these table tops available in three different sizes, which can be chosen to suit the size of your room and table.  The top comes in two separate sections and they have three disks underneath each top which simply sit inside the cushions of your table to ensure the top doesn't move in the event of bumping into it. We can provide these table tennis tops in either blue (all sizes) or black (standard table tennis size) and they come with a retractable net, four bats and six balls.
If you purchase one of our outdoor pool tables then we suggest storing the table tennis top indoors when not in use, due to not being designed to live outside!
We can also create bespoke Table Tennis Tops, to cater any style pool table.
One of our Modern Pool Tables with a table tennis top.
One of our Contemporary Pool Tables with a table tennis top.
One of our Outdoor Pool Tables with a table tennis top.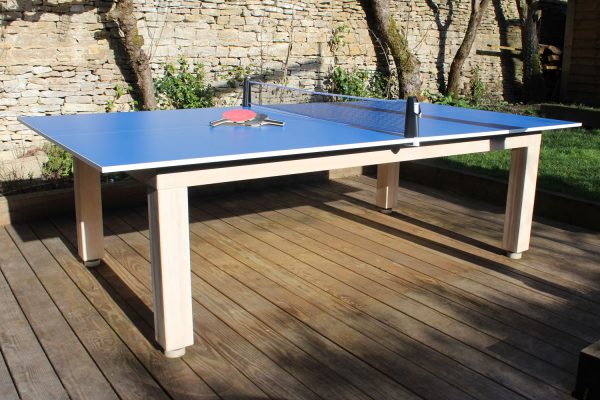 One of our Bespoke Pool Tables with a bespoke table tennis top.