Description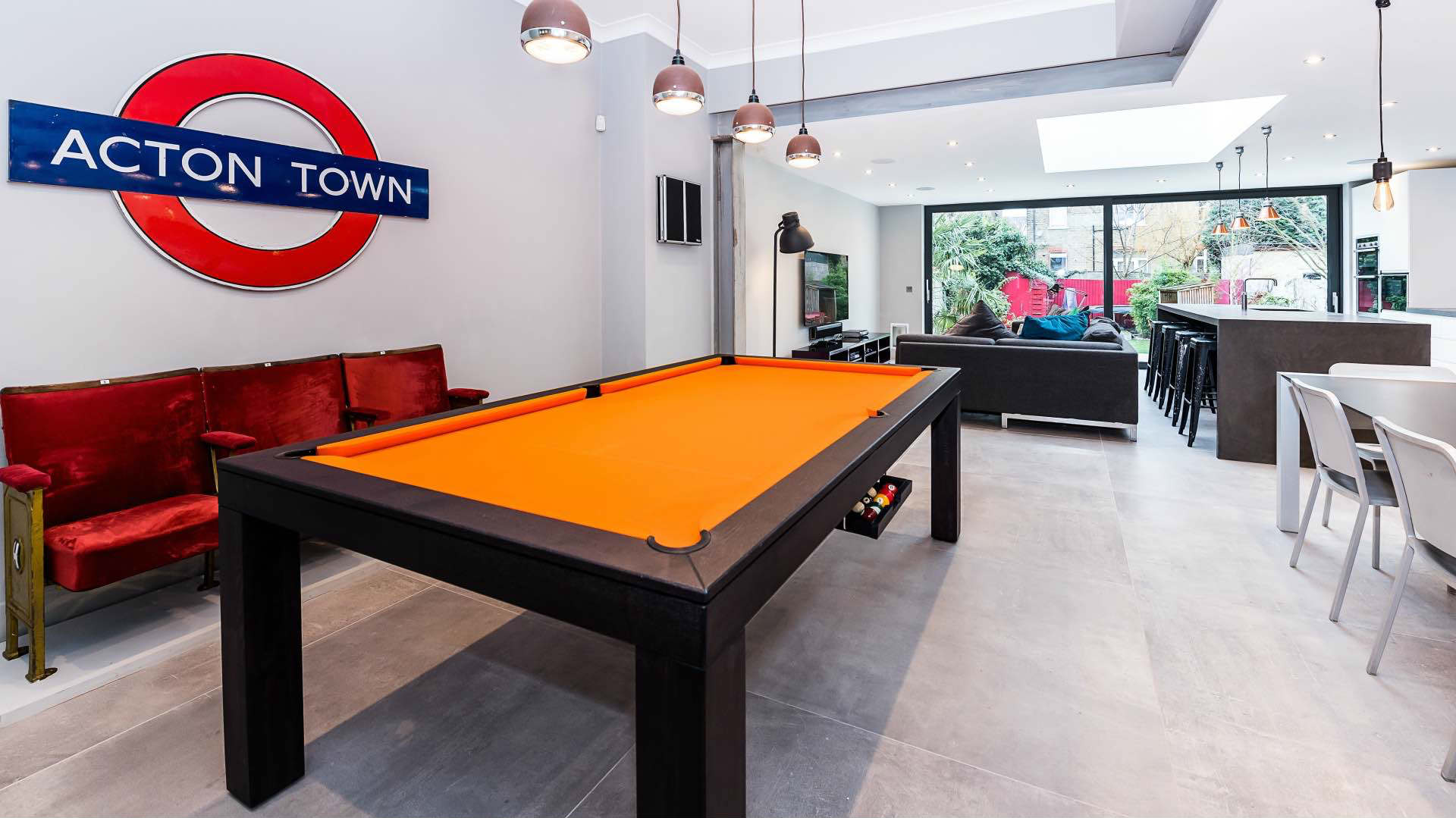 Our Contemporary Pool Table is designed to be the ideal Pool Dining Table due to its ultra slim frame which offers plenty of leg room and our optional rise and fall system, whilst maintaining an excellent billiard game.
Our rise and fall system is a great solution to ensure maximum comfort when using a pool table as a pool dining table. We would highly recommend our rise and fall system as it lifts and lowers the height of the table between ideal dining height (76.5cm) and the ideal pool playing height (80cm), so makes the ultimate pool dining table if you wanted to use standard height dining chairs as you would be able to sit comfortably at the right height for dining. When you wanted to play pool you can simply raise the table to pool playing height. Please note that the rise and fall system is only needed if you wanted to use the table as a pool dining table with standard height chairs, as without the system the table will be fixed at the correct pool playing height. To see our rise and fall system in use, please click the following link here.
As well as being used as a Pool Diner, the Contemporary Pool Table can be used as a Table Tennis Table, gaining further multi-use allowing you to play two games on one table. The optional table tennis tops are available in 3 different sizes to fit your room and table, the top comes in two separate sections and have 3 blocks underneath each which fit against the cushion of your pool table to ensure that the tops don't move whilst being used. Included with the Table Tennis Tops is a net, 4 bats and 6 balls so you are ready to play a great game of table tennis from the start.
As with all our Luxury Pool Tables, this table will be provided with a high-quality Brazilian slate bed to offer the best in terms of play quality, we use the best slate to ensure an exceptional gameplay for this table.
The Contemporary Pool Table is available in our 6′, 7′ and 8′ sizes and can be set up to play English Pool, American Pool, Snooker or Russian Pyramid. We would recommend playing English Pool on our 6' and 7' table sizes and playing American Pool, Snooker or Russian Pyramid on the larger 7' and 8' tables. For more information on the different game types please click the following link here. 
If you are unsure on which table size you require then please find our Table Size Guide below which shows all our table dimensions and recommended room sizes to accommodate our tables, or feel free to get in contact and we can advise you on this.
There are two options on the Contemporary Pool Table in terms of ball collection, the first being an elastic pocket system in which the balls will remain in the pockets they are potted in, the pockets stretch and fit around 10 balls in each. When there are no balls in the pockets these will lay flat against the slate and will not be visible, maintaining the sleek appearance of the table. The second option is a ball return system, for this there are two drawers in the middle of either side of the table which the balls will collect in depending on which side of the table the ball is potted. There are rails from the end pockets which run to the drawer and the balls potted in the middle pocket will fall directly into the drawer. When the drawers are not in use you can hide these by pushing them towards the centre of the table where magnets will hold this system in place. It is worth noting that the ball return system is only available on our 7' and 8′ table sizes.
Our Contemporary Pool Table will fit in with any décor as it can be made in a range of solid wood colours. We can make our tables in either birch, ash or oak and they can be finished in any of the wood colour stains below (which are the same for all 3 wood types). The difference between the 3 wood types is the amount of graining in the wood visible, when the table is made in birch there is hardly any grain visible, ash has more grain visible and oak has the most grain visible. The table also has metal construction within the solid wood to ensure it has a very secure and stable playing surface.
This Luxury Pool Table has several design options allowing you to design the best table to match your space. The best way to figure out the right options for you is to use our "Table Building Program" below. This programme allows you to mock-up the table with the design features of your choice and giving you a better idea of what the table will look like once it has been made. We suggest that you have a play around with this table building programme and then call us with any questions that you may have. It is worth noting that the programme may not give the best representation of the wood and cloth colours, therefore, we are more than happy to send out colour samples, simply drop us an email or phone call and we will get them sent to you right away!
There are five leg options with our Contemporary range that can be seen in the below image and on the Table Building Programme, of which legs #4 and #5 have LED's (extra charge). All of the leg designs will be made in the matching colour to your pool table unless you specify otherwise.
We have 3 great options in terms of cloths that we can cover our pool tables in, all of which are a very high-quality, competition style cloth ensuring the highest standard of game. The first is a Simonis cloth, this is a top of the range 'Speed Cloth' and is most commonly used on American Pool and Russian Pyramid tables. The second is a Hainsworth Smart cloth which is a high quality 'Napped Cloth' and it is usually found on English Pool and Snooker tables. This being said this doesn't have to be the case, we are able to fit any of these cloths on any table. The third option is to have a bespoke cloth made, for this we would require a high quality vectorised image of the design / logo you would like, we can then get mock-ups of the cloth made for you, please note there is an additional cost and longer lead time for having a bespoke cloth.
Included in the prices of our Luxury Pool Tables is a free accessories pack which includes 4 cues, balls, triangle, table brush and 12 chalks to match your table cloth. Alternatively, you can choose to upgrade to our premium accessories pack for a discounted price of £200, this pack includes 4 x higher quality cues, Aramith balls, matching cue rack, matching triangle, table brush and 12 chalks to match your table cloth. We strongly recommend our premium accessories pack as this really compliments the high quality of our pool tables. These packs can be found on our accessories page.
With the current situation lead times have been affected slightly, the current lead times for our custom made pool tables are currently around 15/16 weeks from the point of order. Saying this, we would recommend you contact us for us to confirm this with you as these lead times is subject to change. We do occasionally carry some Pool Tables in stock, so if you require a table quicker than the expected lead times please contact us to see if we have any available which suit your requirements.
If you require benches for your Pool Dining Tables we have a selection of these which can be made to match your table, more information on these benches can be found on our furniture page.
All of our tables are custom made for us to order by Bilijardai.
Delivery and installation costs vary. Please contact us for a quote.
Base Prices (inc 20% VAT)
6′ Table: £3,750
7′ Table: £3,950
8′ Table: £4,250
Additional Options:
Rise and Fall System: £500
Dining Top: £400
LED's (Legs 4 / 5 & in Pockets): £700
Game Types
English Pool
American Pool
Snooker
Russian Pyramid
Wood Type
Birch Wood (included in the price)
Ash (Please add £100)
Oak (Please add £200)
Contemporary Table Heights
Contemporary Pool Table (fixed height):
Floor to dining top: 797mm
Floor to frame: 680mm (more leg room than the Modern range due to 60mm thinner frame)
Floor to playing surface: 740mm
Contemporary with Rise and Fall:
Floor to dining top (when lowered): 752mm
Floor to frame (space for legs) when lowered: 635mm
Floor to playing surface (when lifted): 760mm